Introduction | Life | Work | Books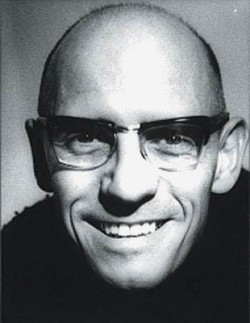 Michel Foucault
(Undated photograph)

Michel Foucault (1926 - 1984) was a French philosopher, historian, critic and sociologist, often associated with the 20th Century Structuralism, Post-Structuralism and Post-Modernism movements (although he himself always rejected such labels).
He was no stranger to controversy, and he was notorious for his radical leftist politics. Although not without his critics, he has however had a profound influence on a diverse range of disciplines.
Michel Foucault (pronounced foo-CO) was born on 15 October 1926 to a notable provincial family in Poitiers in west central France. His father, Paul Foucault, was an eminent surgeon and hoped his son would follow him into the profession. His early education was a mix of success and mediocrity until he attended the Jesuit Collège Saint-Stanislas, where he excelled. After World War II, he gained entry to the prestigious École Normale Supérieure in Paris, the traditional gateway to an academic career in the humanities in France.
At the École Normale, he suffered from acute depression, and became fascinated with psychology. He joined the French Communist Party from 1950 to 1953, inducted into the party by the prominent Marxist philosopher Louis Althusser (1918 - 1990), although he left the party due to concerns about what was happening in the Soviet Union under Joseph Stalin (1878 - 1973) and was never a particularly active member. A particularly influential lecturer was the Existentialist and Phenomenologist Maurice Merleau-Ponty (1908 - 1961). In 1952, he earned a degree in psychology (then a relatively new qualification in France) as well as in philosophy.
After a brief period lecturing at the École Normale, he took up a position teaching psychology at the University of Lille from 1953 to 1954, but it soon became clear to him that teaching was not his real vocation. From 1954 to 1958, his friend and mentor Georges Dumézil (1898 - 1986) arranged a position for him as French cultural delegate to the University of Uppsala in Sweden, and then he briefly held positions at Warsaw University and at the University of Hamburg before returning to France in 1960.
He took up a post in philosophy at the University of Clermont-Ferrand, where he completed his doctorate. His doctorate thesis was later published in an abridged edition as "Folie et déraison" ("Madness and Insanity", also re-published as "Madness and Civilization" and "History of Madness"), and was extremely well-received. He also met Daniel Defert (b. 1937), with whom he lived in a non-monogamous partnership for the rest of his life. When Defert was posted to Tunisia for his military service in 1965, Foucault moved to a position at the University of Tunis. In 1966 he published "Les Mots et les choses" ("The Order of Things"), which was enormously popular despite its length and difficulty, and was responsible for bringing Foucault to prominence as an intellectual figure in France.
The mid-1960s saw the height of interest in Structuralism, (which was set to topple the Existentialism popularized by Jean-Paul Sartre), and Foucault was quickly grouped with scholars such as Jacques Lacan (1901 - 1981), Claude Lévi-Strauss (1908 - ) and Roland Barthes (1915 - 1980) as one of the newest waves of thinkers, although he always rejected the label of Structuralism.
He was greatly affected by the student riots of May 1968 (both in France and locally in Tunis), and returned to Paris in the fall of 1968. In the aftermath of the student riots (which contributed to the fall of the De Gaulle government in France), a new experimental university, Paris VIII, was established in the Vincennes suburb of Paris, and the newly radicalized Foucault was appointed as the first head of its philosophy department in December 1968. He appointed mostly young leftist academics, such as Judith Miller (1941 - ), whose radicalism provoked the Ministry of Education to withdraw the department's accreditation. Foucault notoriously also joined students in occupying administration buildings and fighting with police.
In 1970, he was elected to France's most prestigious academic body, the Collège de France, as Professor of the History of Systems of Thought, a position he retained until his death. His partner Defert joined a French ultra-Maoist group, and Foucault's own political involvement increased still further, including his founding of the Groupe d'Information sur les Prisons ("Prison Information Group"), an organization established to voice the concerns of prisoners, and many protests on behalf of homosexuals and other marginalized groups.
In the late 1970s, political activism in France tailed off with the disillusionment of many left wing militants, a number of whom broke with Marxism to form the so-called New Philosophers, often citing Foucault as their major influence (a status about which Foucault had mixed feelings). He continued to write, including the early volumes of a six-volume project "Histoire de la sexualité" ("The History of Sexuality"), which he was never to complete. Foucault began to spend more time in the United States, at the University at Buffalo and especially at the University of California at Berkeley. In 1979, he made two tours of Iran, undertaking extensive (and controversial) interviews with political protagonists in support of the new interim government established there after the Iranian Revolution.
Foucault died in Paris of an AIDS-related illness on 25 June 1984, at a time when little was known about the disease (the event was consequently mired in controversy). His partner, Defert became a prominent AIDS activist and the founding president of the first AIDS awareness organization in France. Prior to his death, Foucault had destroyed most of his unpublished manuscripts and prohibited in his will the publication of anything he might have overlooked.
Foucault's first major book was "Folie et déraison: Histoire de la folie à l'âge classique" in 1961 (later published in English as "Madness and Insanity", as "Madness and Civilization" and as "History of Madness"), which examined ideas, practices, institutions, art and literature relating to madness in Western history.
His "Les Mots et les choses: Une archéologie des sciences humaines" ("The Order of Things: An Archaeology of the Human Sciences"), first published in 1966, posited that all periods of history have possessed certain underlying conditions of truth that constituted what was acceptable. This was the book that brought Foucault to prominence as an intellectual figure in France.
1969's "Archéologie du Savoir" ("The Archaeology of Knowledge") was his main excursion into methodology and his analysis of the statement as the basic unit of discourse. It was the book which mainly led to his identification with Structuralism. In 1975, Foucault's "Surveiller et punir: Naissance de la prison" ("Discipline and Punish: The Birth of the Prison") marked his continuing politicization during the 1970s, and his particular focus on the rights of prisoners.
Three volumes of his ambitious "Histoire de la sexualité" ("The History of Sexuality") were published before Foucault's death in 1984. The first (and most referenced) volume, "La volonté de savoir" ("The Will to Knowledge"), published in 1976, focused primarily on the last two centuries and the emergence of a science of sexuality and of "biopower" in the West as a way of managing groups of people. The second two volumes, "L'usage des plaisirs" ("The Use of Pleasure") and "Le souci de soi" ("The Care of the Self") were first published in French in 1984, and deal with the role of sex in Greek and Roman antiquity. Foucault's idea that the body and sexuality are cultural constructs rather than natural phenomena made a significant contribution to the feminist critique of Essentialism.
There has been much criticism of Foucault's lax standards of scholarship, his historical inaccuracies and misrepresentation of facts, and his rejection of the values and philosophy associated with the Enlightenment while simultaneously secretly relying on them. However, the sheer volume of citations in standard academic journals (in disciplines as diverse as philosophy, art, history, anthropology, geography, archaeology, communication studies, public relations, rhetoric, cultural studies, linguistics, sociology, education, psychology, literary theory, feminism, queer theory, management studies, the philosophy of science, political science, urban design, museum studies, and many others) suggest that his influence has been profound indeed.
See the additional sources and recommended reading list below, or check the philosophy books page for a full list. Whenever possible, I linked to books with my amazon affiliate code, and as an Amazon Associate I earn from qualifying purchases. Purchasing from these links helps to keep the website running, and I am grateful for your support!
---
---